Recipes
Zucchini Crust Pizza
Ingredients

2 cups shredded zucchini (1 to 1-1/2 medium), squeezed dry
1/2 cup egg substitute or 2 large eggs, lightly beaten
1/4 cup all-purpose flour
1/4 teaspoon salt
2 cups shredded part-skim mozzarella cheese, divided
1/2 cup grated Parmesan cheese, divided
2 small tomatoes, halved, seeded and sliced
1/2 cup chopped onion
1/2 cup julienned green pepper
1 teaspoon dried oregano
1/2 teaspoon dried basil
Directions

1. Preheat oven to 450°. In a large bowl, combine first four ingredients; stir in 1/2 cup mozzarella cheese and 1/4 cup Parmesan cheese. Transfer to a 12-in. pizza pan coated generously with cooking spray; spread to an 11-in. circle.
2. Bake until golden brown, 13-16 minutes. Reduce oven setting to 400°. Sprinkle with remaining mozzarella cheese; top with tomatoes, onion, pepper, herbs and remaining Parmesan cheese. Bake until edges are golden brown and cheese is melted, 10-15 minutes. Yield: 6 slices.
1 slice: 188 calories, 10g fat (5g saturated fat), 30mg cholesterol, 514mg sodium, 12g carbohydrate (4g sugars, 1g fiber), 14g protein.

Recipe taken from http://www.tasteofhome.com
Coffee-Braised Pot Roast with Caramelized Onions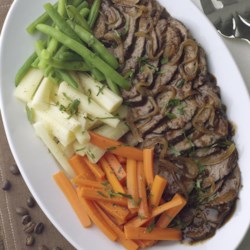 Patsy Jamieson

"This recipe is reminiscent of a pot roast made with onion-soup mix, but the flavors are true and pure—and nobody misses the excess sodium. (For a slow-cooker variation, see below.)"

Ingredients

1 4-pound beef chuck roast, (see Ingredient note), trimmed of fat
½ teaspoon salt, or to taste
4 teaspoons extra-virgin olive oil, divided
Freshly ground pepper, to taste
4 cloves garlic, minced

1 teaspoon dried thyme
¾ cup strong brewed coffee
2 tablespoons balsamic vinegar
2 tablespoons cornstarch mixed with 2 tablespoons water
2 large onions, halved and thinly sliced (4 cups)
Directions

1Preheat oven to 300°F.
2Season beef with salt and pepper. Heat 2 teaspoons oil in a Dutch oven or soup pot over medium-high heat. Add beef and cook, turning from time to time, until well browned on all sides, 5 to 7 minutes. Transfer to a plate.
3Add the remaining 2 teaspoons oil to the pot. Add onions, reduce heat to medium and cook, stirring often, until softened and golden, 5 to 7 minutes. Add garlic and thyme; cook, stirring, for 1 minute. Stir in coffee and vinegar; bring to a simmer. Return the beef to the pot and spoon some onions over it. Cover and transfer to the oven.
4Braise the beef in the oven until fork-tender but not falling apart, 2½ to 3 hours. Transfer beef to a cutting board, tent with foil and let rest for about 10 minutes.
5Meanwhile, skim fat from the braising liquid; bring to a boil over medium-high heat. Add the cornstarch mixture and cook, whisking, until the gravy thickens slightly, about 1 minute. Season with pepper. Carve the beef and serve with gravy.
6Slow-Cooker Variation:
7In Step 2, transfer the browned beef to a slow cooker. In Step 3, use just ½ cup coffee. Add the onion mixture to the slow cooker. In Step 4, cover and cook until beef is tender, 4½ to 5 hours on High or 7 to 8 hours on Low. In Step 5, pour the liquid into a medium saucepan and continue as directed.
Make Ahead Tip: The pot roast will keep, covered, in the refrigerator for up to 2 days. Reheat meat slices and sauce, covered, in the oven, microwave or on the stovetop.
Ingredient Note: Although it is not the leanest cut of beef, chuck is still our choice for pot roast because it doesn't dry out during braising. You will find pockets of fat as you carve it, but they are easy to remove.
For easy cleanup, try a slow-cooker liner. These heat-resistant, disposable liners fit neatly inside the insert and help prevent food from sticking to the bottom and sides of your slow cooker.
Recipe taken from Eatingwell.com All Rights Reserved
Black Bean Croquettes with Fresh Salsa
From: EatingWell Magazine, January/February 2008
Ingredients

2 15-ounce cans black beans, rinsed
1 teaspoon ground cumin
1 cup frozen corn kernels, thawed
¼ cup plus ⅓ cup plain dry breadcrumbs, divided
2 cups finely chopped tomatoes
2 scallions, sliced
¼ cup chopped fresh cilantro
1 teaspoon chili powder, hot if desired, divided
¼ teaspoon salt
1 tablespoon extra-virgin olive oil
1 avocado, diced
Directions

1

Preheat oven to 425°F. Coat a baking sheet with cooking spray.

2

Mash black beans and cumin with a fork in a large bowl until no whole beans remain. Stir in corn and ¼ cup breadcrumbs. Combine tomatoes, scallions, cilantro, ½ teaspoon chili powder and salt in a medium bowl. Stir 1 cup of the tomato mixture into the black bean mixture.

3

Mix the remaining ⅓ cup breadcrumbs, oil and the remaining ½ teaspoon chili powder in a small bowl until the breadcrumbs are coated with oil. Divide the bean mixture into 8 scant ½-cup balls. Lightly press each bean ball into the breadcrumb mixture, turning to coat. Place on the prepared baking sheet.

4

Bake the croquettes until heated through and the breadcrumbs are golden brown, about 20 minutes. Stir avocado into the remaining tomato mixture. Serve the salsa with the croquettes.

Taken from Eatingwell.com
Black Bean Quesadillas


Ingredients

1 15-ounce can black beans, rinsed
½ cup shredded Monterey Jack cheese, preferably pepper Jack
½ cup prepared fresh salsa (see Tip), divided
4 8-inch whole-wheat tortillas
2 teaspoons canola oil, divided
1 ripe avocado, diced
Directions

1

Combine beans, cheese and ¼ cup salsa in a medium bowl. Place tortillas on a work surface. Spread ½ cup filling on half of each tortilla. Fold tortillas in half, pressing gently to flatten.

2

Heat 1 teaspoon oil in a large nonstick skillet over medium heat. Add 2 quesadillas and cook, turning once, until golden on both sides, 2 to 4 minutes total. Transfer to a cutting board and tent with foil to keep warm. Repeat with the remaining 1 teaspoon oil and quesadillas. Serve the quesadillas with avocado and the remaining salsa.
Tip: Look for prepared fresh salsa in the supermarket refrigerator section near other dips and spreads.
Recipe and image taken from eatingwell.com
Five-Spice Turkey & Lettuce Wraps
This recipe appears on eatingwell.com
Ingredients
½ cup water

½ cup instant brown rice

2 teaspoons sesame oil

1 pound 93%-lean ground turkey

1 tablespoon minced fresh ginger

1 large red bell pepper, finely diced

1 8-ounce can water chestnuts, rinsed and chopped

½ cup reduced-sodium chicken broth

2 tablespoons hoisin sauce, (see Note)

1 teaspoon five-spice powder, (see Note)

½ teaspoon salt

2 heads Boston lettuce, leaves separated

½ cup chopped fresh herbs, such as cilantro, basil, mint and/or chives

1 large carrot, shredded
Directions
1

Bring water to a boil in a small saucepan. Add rice; reduce heat to low, cover and cook for 5 minutes. Remove from the heat.

2

Meanwhile, heat oil in a large nonstick pan over medium-high heat. Add turkey and ginger; cook, crumbling with a wooden spoon, until the turkey is cooked through, about 6 minutes. Stir in the cooked rice, bell pepper, water chestnuts, broth, hoisin sauce, five-spice powder and salt; cook until heated through, about 1 minute.

3

To serve, divide lettuce leaves among plates, spoon some of the turkey mixture into each leaf, top with herbs and carrot and roll into wraps.
Make Ahead Tip: Prepare the filling (through Step 2), cover and refrigerate for up to 1 day. Serve cold or reheat in the microwave.

Tips: Hoisin sauce is a spicy, sweet sauce made from soybeans, chiles, garlic and spices. It will keep in the refrigerator for at least a year.

Often a blend of cinnamon, cloves, fennel seed, star anise and Szechuan peppercorns, five-spice powder was originally considered a cure-all miracle blend encompassing the five elements (sour, bitter, sweet, pungent, salty). Look for it in the supermarket spice section.
Grilled Pork Salad


Serves 6

Approximately 300 calories per serving


Ingredients

2 1/2 tablespoons
extra-virgin olive oil, divided
1 1/2 tablespoons
white wine vinegar
1/2 teaspoon
freshly ground black pepper, divided
1
(1-pound) pork tenderloin, trimmed
1 1/3 cups
thinly diagonally sliced celery
2 cups
thinly sliced red Bartlett or Comice pear (about 2)
Preparation

1. Preheat oven to 350°.
2. Combine pecans and canola oil in a small bowl; toss well. Place pecans on a baking sheet. Sprinkle with 1/4 teaspoon salt and sugar. Bake at 350° for 5 minutes.
3. Preheat grill to medium-high heat.
4. Combine 1/4 teaspoon salt, 2 tablespoons olive oil, vinegar, and 1/4 teaspoon pepper in a large bowl, stirring with a whisk.
5. Brush pork with remaining 1 1/2 teaspoons olive oil; sprinkle with the remaining 1/2 teaspoon salt and remaining 1/4 teaspoon pepper. Place pork on a grill rack coated with cooking spray; grill 6 minutes on each side or until a thermometer registers 145°. Let stand 10 minutes. Cut, crosswise, into 1/4-inch-thick slices.
6. Add escarole and celery to vinegar mixture; toss gently to coat. Place 1 cup escarole mixture on each of 6 plates; top each serving with 1/3 cup pears and 3 ounces pork. Sprinkle evenly with pecans.
Breakfast Tacos
Here is a high protein breakfast idea that is only 240 calories!
Makes: 1 serving
Serving Size: 2 tacos
Active Time: 15 minutes
Total Time: 15 minutes
Ingredients-
2 corn tortillas
1 tablespoon salsa
2 tablespoons shredded reduced-fat Cheddar cheese
1/2 cup liquid egg substitute, such as Egg Beaters
Preparation-
1.Top tortillas with salsa and cheese. Heat in the microwave until the cheese is melted, about 30 seconds.
2.Meanwhile coat a small nonstick skillet with cooking spray. Heat over medium heat, add egg substitute and cook, stirring, until the eggs are cooked through, about 90 seconds. Divide the scrambled egg between the tacos.
Nutrition
Per serving: 239 calories; 7 g fat (2 g sat, 2 g mono); 4 mg cholesterol; 24 g carbohydrates; 2 g added sugars; 2 g total sugars; 21 g protein; 3 g fiber; 443 mg sodium; 558 mg potassium.
Nutrition Bonus: Iron (19% daily value), Zinc (17% dv), Calcium (17% dv), Potassium (16% dv).
Carbohydrate Servings: 1
Exchanges: 1 starch, 2 lean meat
Salads, Salads, Salads!!!
We wanted to try to choose one salad from this great list but they all looked too yummy! Try one today.
Shellfish Ceviche
(serves 10)
Ingredients

1 lb raw shrimp, about 35 shrimp total
1 lb bay scallops
1 cup coconut milk
1/2 cup fresh lime juice
1/4 cup finely chopped red bell peppers
1/4 cup finely chopped Serrano peppers, steamed and seeded
3 tbsp chopped cilantro
2 tbsp minced ginger root
1 tsp salt
Preparation

Thoroughly wash shellfish before preparing.
In a large pot, bring a good amount of water to a boil. Add shrimp and bring to a simmer over medium heat. Cook 1 to 2 minutes until shrimp are opaque.
Add scallops and cook for 1 to 2 minutes until opaque.
Remove shellfish from water and put on ice. Let stand until cooled.
Strain shellfish and slice into small pieces.
Whisk together coconut milk, lime juice, peppers, cilantro, salt and ginger. Toss together with shrimp and scallops.
Wrap everything with plastic wrap and refrigerate at least 6 hours, or until shellfish is thoroughly marinated. Serve cold.
Nutritional Information per Serving

116 Calories

3 g Carbohydrates
0.5 g Fiber
0.5 g Sugars
5.8 g Fat
13.3 g Protein
334 mg Sodium
Crisp Cucumber Salsa
2 cups finely chopped seeded peeled cucumber
1/2 cup finely chopped seeded tomato
1/4 cup chopped red onion
2 Tbsp minced fresh parsley
1 jalepeno pepper, seeded and chopped
4-1/2 tsp minced fresh cilantro
1 garlic clove, minced or pressed
1/4 c reduced-fat sour cream
1-1/2 tsp lemon juice
1-1/2 tsp lime juice
1/4 tsp ground cumin
1/4 tsp seasoned salt
Note: 1/4 cup is only 16 calories!
In a small bowl, combine the first seven ingredients. In another bowl, combine the sour cream, lemon juice, lime juice, cumin and seasoned salt. Pour over cucumber mixture and toss gently to coat. Serve immediately with chips.
Pea and Avocado Dip
Yields: 6-8 servings | Serving Size: 2-3 Tbsp |Calories: 80 | Total Fat: 3.9 g | Saturated Fat: 0.6 g | Trans Fat: 0 g | Cholesterol: 0 mg | Sodium: 4 mg | Carbohydrates: 9.3 g | Dietary Fiber: 4.1 g | Sugars: 2.9 g | Protein: 3.1 g |
Ingredients
1 -1/2 cups of green peas, fresh or frozen, cooked and cooled

1 avocado

I clove of garlic

1 tablespoon lime juice

hot sauce to taste
Directions
Place all the ingredients into a food processor and mix to the consistency you prefer.
Tuna Cakes
INGREDIENTS:
6.5 oz. foil-pouch tuna, oil-pack, drained, or salmon or fresh crab (half a 12 oz. can or 5 oz. can will work OK, if that's all you have on hand)
2 beaten eggs
½ c. celery, finely chopped
1/3 c. green onion, chopped
2 oz. yellow onion, chopped
¼ c. red bell pepper (best as it is sweeter, but any color is fine)
Dash black pepper
2 T. olive oil (to saute veggies)
1 T. olive oil (to fry croquettes)
DIRECTIONS:
Heat the 2T. olive oil in non-stick skillet and saute veggies until tender. Scrape into mixing bowl. Add all other ingredients to bowl (except remaining tablespoon of oil). Stir well to blend smoothly. Form into 6 small patties and brown in the 1 T. oil in the skillet over medium-high heat. Try not to disturb or flip them until the first side is fully browned or they will likely tear up on you. Serve at once with your favorite cream sauce or tartar sauce, low-carb ketchup. I like to serve these with a light cream sauce or homemade mayo into which I've stirred a bit of the Seafood Spice Blend or my
Shawarma seasoning
.
NUTRITIONAL INFO: Makes 6 tuna cakes, each containing:
201 calories
16.3 g fat
2.13 g carbs, .5 g fiber, 1.63 g NET CARBS
12.9 g protein
127 mg sodium
Hot Cinnamon Pears
Here is a great treat for a cool fall or winter day!
!
1 can lite pears (either sliced or halves)
Cinnamon
Pour pears in to a microwave-safe dish. Sprinkle cinnamon on top. Heat in microwave for 1 minute. Divide in to 4 small dishes. Enjoy.
Cucumber and Dill Sandwich
1/4 cup plain non fat greek yogurt
1 dash sea salt
1 dash pepper
1/2 tsp dill, fresh
1/3 cup cucumber, sliced small
2 slice whole wheat bread
In a bowl, add greek yogurt, lemon juice, salt, pepper and dill; mix until combined. Stir in cucumbers.
Add cucumber mixture to one slice of bread and top with other slice of bread.

Note:
Calories are calculated using 90 calorie bread; therefore, you could reduce calories by using 45 calorie bread.
Calories per sandwich: 219, Fat: 0, Cholesterol: 0, Sodium: 99, Potassium: 60, Carbs: 39, Fiber: 4.3, Sugar: 6.4, Protein: 10
Pumpkin Spice Latte
School has started, fall is coming, and the weather is going to start getting cooler. Try this version of a hot fall treat that is sweet, tasty, AND healthy!
Ingredients (makes 2 servings)
-1 cup unsweetened vanilla almond milk
-1/2 cup plain pumpkin purée filling (120g)
-1 scoop MRM whey protein
-1 Tbsp vanilla extract
-3 stevia packets (or any sweetener of choice)
-1.5 tsp pumpkin pie spice
-10 oz strong brewed coffee
-Mix all ingredients in blender then microwave for 45 seconds and enjoy!
Macros per serving (12oz)
90 calories
2g fat
7g carbs (2g fiber)
10.5g protein
STRAWBERRY SMOOTHIE (snack size)
1/2 cup frozen strawberries
1/2 – 1 cup unsweetened Almond milk (or coconut milk)
TIP: Looking for a way to minimize calories and maximize nutrition? Use unsweetened Almond or Coconut milk. They come in an unsweetened or light versions as well. You can get some with vanilla flavoring too. It has less calories but more calcium than skim milk. Calories range 30-60 calories per 8 ounce serving. It is a non-dairy product. Great when used on cereal or in a Smoothie (or a low calorie ice coffee). There are a few different brands.
2 Ingredient Pumpkin Muffins
1 box spice cake mix, 1 (15ounce) can pure pumpkin puree Simply mix the pumpkin and cake mix and drop by heaping tablespoons in greased muffin cups, bake at 350 for 18-22 minutes.
Serving: 18, calories 113.8 Total Fat 0.4g Cholesterol 0mg Sodium 119.9mg Total Carbs 24.4g Dietary Fiber 2g, Protein 2.9g
Low Calorie Snack
Nice low cal lunch or snack. Only about 75 calories. Cucumber slices, carrots, hot pepper and two thin slices of turkey lunch meat.
Tomato Salsa
Make Healthy Food Swaps Substitute tomato salsa for fattening condiments like mayo, sour cream, butter, and creamy salad dressings. With less than 20 calories per ¼ cup, salsa makes a terrific, low-cal dip for crunchy veggies like baby carrots, celery sticks, and bell pepper slices.
Healthy Wrap
Healthy wrap: 1/2 cup chopped chicken, 3 Tbsp Fuji apples chopped, 2 Tbsp red grapes chopped, 2 tsp honey, 2 Tbsp almond butter. Mix and wrap in a Romaine lettuce leaf.